More funds needed for Guernsey's sea defences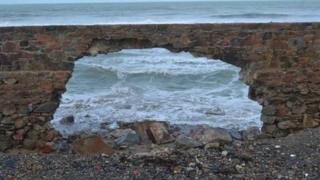 More money is needed in Guernsey's Environment Department's budget for sea defence repairs, a board member has said.
Barry Paint said unprecedented gales and spring tides had put "uncommon pressure" on sea defences.
It comes after strong winds and waves punched a hole in the centre of the Vazon sea wall.
Staff from States Works visited the site on Tuesday to reinforce the breach ahead of high tide.
Mr Paint has warned other projects might have to be delayed to pay for storm damage repairs.
Coastal damage was also reported at Perelle where stonemasons had to repair the seaward side of the wall around the battery opposite Perelle Hotel.
The States has previously debated sea defence funding, when Deputies agreed to spend about £20m to protect what they regarded as the highest priority areas, including Belle Greve Bay, St Sampson's Harbour, Perelle and the Town seafront.
However Guernsey's Deputy Environment Minister, Tony Spruce, warned that £50m would be needed to fund all of Guernsey's coastal defences.
Earlier this month the island's met office announced that Guernsey has had its wettest winter for 101 years.
The rainfall total for December last year to February was 19in (483mm). The previous record was 18.7in (475mm) recorded in 1915.
The wettest winter since records began in 1843 was in 1875/1877 when 20in (510mm) of rain was recorded.