Guernsey coastal flooding 'expected'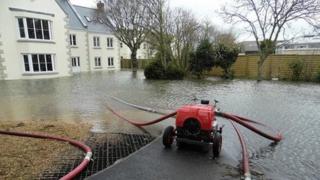 Strong winds and a high tide are expected to cause coastal flooding in parts of Guernsey later, the island's met office has warned.
A 33ft (10m) high tide along with a south-westerly force five to six wind is expected to cause flooding in exposed low-lying coastal areas on the east and west coasts on Sunday evening.
The Perelle Coast Road and the Biloterie in St Saviours will close.
Storm boards will be used to protect coastal properties.
The Guernsey Met Office has warned drivers and pedestrians using coastal roads to take extreme care as conditions are likely to be hazardous.