Bailiwick of Guernsey war memorial move plan revised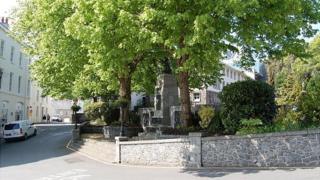 Plans to move the Bailiwick of Guernsey war memorial have been revised.
The Town Centre Partnership put forward plans in March 2013 to replace the nearby sunken gardens with an underground car park, above which the memorial would sit.
It followed concern there was not enough space around the memorial for the public when parades or remembrance services were conducted.
But, plans have been reduced and the idea of a car park has been scrapped.
The new plans, which are expected to cost £3m, feature a smaller parade area with the space previously earmarked for parking filled in or left empty.
John Silvester, from the partnership, said: "Guernsey families will be looking at the names and reflecting back on the past.
"We feel an obligation as servicemen to try to get this war memorial in a position where we can all see it."
The partnership hoped for funding from the States with the money recouped through car park fees.
The Treasury and Resources Department said it would not support the original proposals, as the island's transport strategy and urban development plans have yet to be agreed.
The department said it could not comment on the latest plans because it had not seen them.