Guernsey racehorse trainer Tom Bougourd retires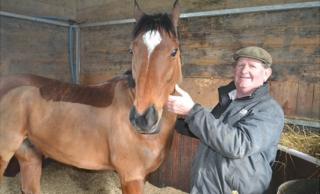 Guernsey's only racehorse trainer has retired, after working in the sport for more than 50 years.
Tom Bougourd, 71, started off as a jockey and won his first race in 1962, in Jersey, when there were about a dozen trainers in Guernsey.
He said the death of his wife and training partner, Ruth, along with rising costs were behind his decision.
Mr Bougourd said he was "very sad" about making the tough decision and said he would "miss it".
"I want to do one or two things I haven't been able to do, with being involved in the training," he said.
"If you want to do it properly, we start around Christmas time and our racing season finishes at the end of August."
Roger Hughes, chairman of the Guernsey branch of British Show Jumping Association, said: "I think it's a bit of history that's perhaps going to be lost.
"The Guernsey Race Club hold one meeting a year in May and it's always nice to see a Guernsey owned, trained and sometimes even ridden horse coming out."
Jim Jamouneau, the president of Guernsey Race Club, said "the Bougourd name" would be missed.
He said there were no other racehorse trainers in Guernsey, as young people preferred to go into show jumping.
"There's nothing finer than having your horse and watching it run," said Mr Jamouneau.
Mr Bougourd had already decided his current horse, Garden Party, would be his last.
He said costs had played their part in his decision to retire.
"This year we could only go to Jersey once on the ferry and come back the same day, so it involves hotels and different things," he said.
"I've got to take out a trainer's insurance. Whether I've got one horse or 100 it's £1,000 - it's not worth spending all that money for one horse."
Mr Bougourd said while he was stepping down from training, he expected to help with the Guernsey Race Day and travel across to Jersey.