Guernsey poppy field to be sown for WW1 centenary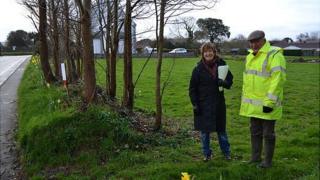 A Guernsey field will be planted with poppies to commemorate the centenary of the start of World War One.
St Peter's Floral Group hopes the area, which covers about half an acre, will be in flower from July until the middle of August.
Jane Russell, from the group, said: "More than 5,200 men from the Bailiwick fought in the conflict and nearly 1,200 were killed.
"We think that is something that should never be forgotten."
The group adopted the project after being approached by Maj Bob Place MBE, who is on a States working group co-ordinating events related to World War One commemorations.
He said: "We always say 'we will remember them' and this will be an excellent aide memoire for everyone."
Ms Russell said: "We wanted a prominent place in the centre of the parish to place the poppy field and this seemed the ideal site.
"We approached the owner, Paul de Garis, and he said he would be honoured to allow us to use the field."
Planning permission is needed before the work can go ahead to allow the turf in the field to be removed for planting.
Mr Russell said: "Poppies don't grow well in competition with other plants, especially grass, so we need to take the turf off before we can sow the poppies."
The intention is for the poppy field to remain in place for four years to reflect the duration of the conflict. The earth bank would then be levelled out again.
Youth groups in the parish have been approached for help with the planting.