Guernsey seabird count finds 86 dead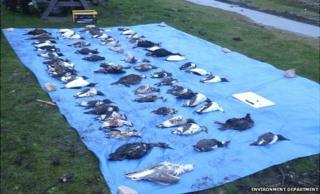 A survey aimed at measuring the impact of the storms on Channel Island seabird populations found 86 dead birds on Guernsey's beaches.
Hundreds of seabirds have washed up along the coasts of South West England, France, Jersey and Alderney.
Jamie Hooper, from La Societe Guernesiaise Ornithology Section, said: "Almost all the birds we assessed showed clear signs of starvation."
He warned the full impact would not be clear for some time yet.
Mr Hooper said: "Many of our birds are still out at sea and would be expected to return in the next two to three weeks.
"We won't know for a while how much impact the losses now being reported throughout the Atlantic coast of France through to the south of England will have on their numbers, or their ability to breed this year given their poor condition."
He said only once the breeding season had begun would there be a clear idea of how much damage had been done to the seabird populations.
The survey on Saturday was carried out by volunteers, including members of La Societe Guernesiaise, RSPB Guernsey, GSPCA and the Environment Department.
A team of five ornithologists identified and recorded details of the age and condition of the birds.
Among them was a Great Northern Diver, which breeds in Greenland, Iceland and North America with just a few individuals wintering in the islands.
Jan Dockerill, from the Environment Department, asked anyone who found injured birds to contact the GSPCA and report any dead birds, which they should dispose of if they have gloves and a black bag.
She said: "Seeing ranks of dead birds like that was very grim... [but] we will learn from this."