Guernsey Extra Care housing flats 'to be sold'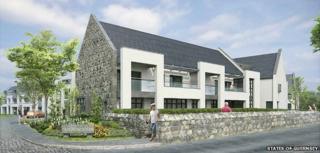 Extra Care Housing flats are to be part sold in a bid to make them available to a wider range of Guernsey residents.
The partial ownership scheme involves 10 two-bedroom flats - seven at Le Grand Courtil, St Martin and three at La Nouvelle Maraitaine, Vale.
Steve Williams, from the Guernsey Housing Association, said previously those with higher incomes or assets could not be placed in the housing.
He said he expected a high level of interest in the scheme.
As with the rental properties in the two centres, which are still being built, those wishing to buy a part of their flat would need to be aged over 18 and require at least four hours care and support each week.
The rental flats are already heavily oversubscribed and the association and the Housing Department hopes to get States approval for 45 more flats to be built on the sites, including seven for partial ownership.