Cigarettes shipping container washes up at Seaton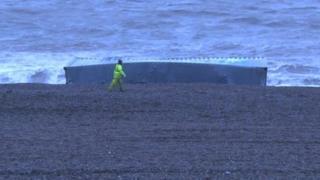 A shipping container carrying 14 tonnes of cigarettes has been washed up in east Devon.
The container, washed up at Seaton, was believed to have been lost overboard from a cargo ship in the Bay of Biscay last week, Portland Coastguard said.
It added police and coastguard teams were determining how to retrieve it.
The contents are being secured because the cigarettes were not intended for the UK and no duty has been paid on them.
The coastguard's Lyme Bay sector manager Peter Pritchard, said: "Until such time as either duty is paid or they are destroyed, then they have a value and they have to go into a secure bonded facility overseen by HMRC [HM Revenue and Customs]."
The Maritime and Coastguard Agency said a number of containers came off the vessel.
Most were empty and were believed to have sunk in French waters, about 75 nautical miles (140km) south-west of Lands End.
But a container believed to be from the same vessel was recently reported off Start Point.
Mr Pritchard said there was still the possibility that further containers could be washed up on the south coast.