Dead sea bird count carried out on Guernsey beaches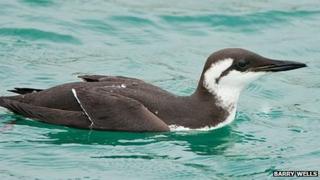 Volunteers in Guernsey have been searching the island's coast for dead sea birds following recent storms.
The Environment Department said it had organised a count to gather data on how the local sea bird population had been affected by the weather.
High winds and heavy seas have exhausted sea birds and had stopped many species diving for food, it said.
Shags, guillemots, razorbills and kittiwakes were particularly affected, RSPB Guernsey said previously.
Volunteers have joined the RSPB and the GSPCA to search island beaches to collect data on how many had washed up in Guernsey.