Puffin found on L'Eree beach dies after swallowing oil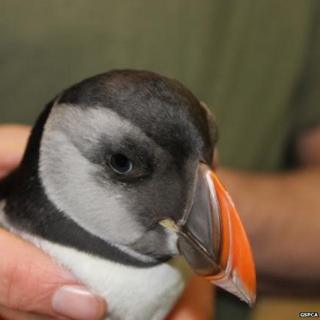 A puffin which had been rescued from Guernsey's L'Eree beach has died after swallowing oil.
The bird, named Lihou, was the first of its kind to be rescued by the GSPCA in over a decade.
Lihou was found covered in oil and was extremely distressed when it was taken into intensive care.
Steve Byrne, GSPCA manager, said: "Puffins spend much of their life out at sea but this extreme weather has had a huge impact on many species."
The GSPCA has seen a dramatic increase in exhausted and oiled birds and currently has 13 guillemots and one gannet in its care.
Mr Byrne said: "We really are inundated with sea birds, many are too weak to save or even dead on arrival."