RMT protests for Condor's striking French crew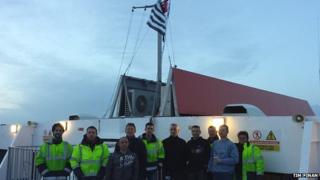 A UK trade union, the Rail Maritime and Transport (RMT), has announced it will protest in support of the striking French crew of the Condor Rapide.
French crew on board the ferry, docked at St Malo, refuse to work until they get better pay and conditions.
The RMT said it "doesn't believe Condor's claims that the company can't afford to give to crew better pay and conditions".
The protest will begin at 16:00 GMT at Condor's berth in Portsmouth.
The strike has already cost the ferry company more than £500,000, it has claimed.
Talks fail
Talks aimed at finding a compromise have resumed after they stalled on Monday night.
Jersey Senator Alan Maclean told States members, during questions, that Condor was working hard to find a solution.
Jersey constable Phil Rondel argued that there should be another operator on the route; a sentiment which has been echoed by the tourist businesses in St Malo.
Representatives for the Guernsey-owned company have been on board the vessel to discuss terms with representatives from the International Transport Workers' Federation (ITF).
Condor says it cannot afford all of the striking crew's demands.
ITF representative Laure Talloneau said: "Staff would not compromise and not go back to work until they got better pay and working conditions."
Ms Talloneau said workers were protesting because they wanted the same rights as their counterparts on the mainland, such as social security benefits.
She said they would stay on strike until they had their contracts changed.