Guernsey Victorian bathing pools closed by storm damage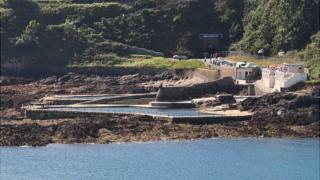 Storm damage has meant Guernsey's Victorian bathing pools at La Valette have been closed indefinitely.
"Extensive damage" to the three outdoor pools has left them in "a very dangerous condition", according to the Culture and Leisure Department.
A spokesman said: "For their own safety the public are requested to keep clear."
He said due to the damage to the stonework and railing, it was not even safe to swim in the area at high tide.
The spokesman said the pools would be drained to assess the damage before repairs could be carried out, but the department hoped to reopen them as soon as possible.
However Minister Mike O'Hara has said his department did not have the funds to make the repairs, and would have to apply for money from a government fund.
The pools are used all year round by swimmers and were built after the loss of beachfront due to the extensive development of St Peter Port Harbour.