Guernsey's alcohol-related liver disease statistics 'shocking'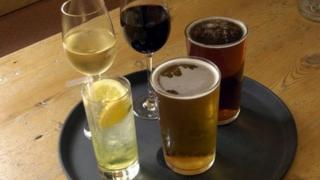 The number of people who have died of alcohol-related liver disease in Guernsey over the past decade is "shocking", the island's director of public health has said.
According to the annual medical report, 130 people have died from liver disease in the past 10 years.
About half the deaths were attributed to alcohol abuse.
Dr Stephen Bridgman wants a minimum price for alcohol introduced and a change in attitude towards drinking.
'Cultural' questions
The director said the deaths were a "terrible burden".
"I think it's quite shocking if you look at the number of people in the last decade that have died from alcohol-related liver disease," he told BBC News.
"Celebratory things are associated with alcoholic drinks, so that's why there's a question about our culture."
Dr Bridgman said liver disease was known as the "silent killer" because it often developed gradually with regular drinking and most people did not realise they had it until it was too late.
According to the National Confidential Enquiry into Patient Outcome and Death, the number of cases of liver disease is rising, with hospital admissions up 40% in a decade.
In England, it accounts for about 2% of all deaths.