Dangerous levels of rubbish are washed up in floods and tides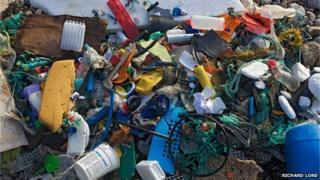 Extreme weather has been blamed for an unusually high amount of rubbish littering Guernsey beaches.
The degrading plastics have been affecting the wildlife, with dead birds and fish found among the litter.
Jonathan Petit from Take3 Guernsey said: "The weather has caused excess plastic which can attract dangerous oils and chemicals, which if eaten by seabirds can prove to be fatal."
The organisation has been clearing the beaches over the weekend.
'Damaging property'
They have asked people who visit the beach to "take three pieces of rubbish when they leave".
People visiting a rescued dolphin, named Fortune, at Beaucette Marina have also been damaging property around the marina, with some even jumping on to boats.
Marina manager Rick Stephens said: "While it's been lovely to see Fortune, the damage has been a huge problem for mooring holders."
Fortune, named by its rescuers, was saved from Pembroke Beach after it was stranded in the storms.