Jersey 'escaped worst' as flood warning downgraded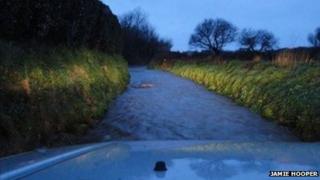 Jersey's flood warning was downgraded overnight, police have said.
Jersey Met Office issued a flood alert for the Channel Islands late on Thursday but the island escaped the worst of the rain.
However Guernsey sustained heavy rainfall with more than 50 roads and several properties flooded.
A spokesman for Guernsey police said some routes were under two or three feet of water.
Guernsey police said that the majority of the flooding was centred around the northern inland areas, which are low-lying.
In Alderney there was flooding at Platte Saline, Judges Pond, the Airport Road and Newtown Road around Water Lane.
In Jersey there were force nine gales, with three trees coming down, and the highest recorded wind speed nearly 70mph at Jersey Airport.