Guernsey's coastal repairs storm bill rises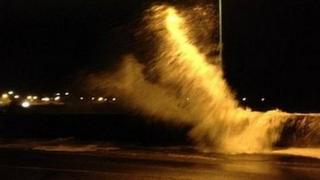 Guernsey's Environment Department has said most of its annual budget for maintenance of coastal defences has been allocated already.
The department said its budget for 2014 was £77,000, and an estimate for repairs to recent coastal damage alone was £40,000.
A spokesman said: "It's prudent to assume that the annual revenue budget is now virtually depleted."
Repairs have already been carried out at Cobo, Rocque Poisson and Vazon.
The exceptional tides, combined with high winds, over the last five weeks have caused concern across the island.
The department has said the deterioration of the Fermain wall is likely to take the majority of the budget.
Breathing equipment
Areas where new damage has been reported are Longstore, Rocquaine, Route de la Lague, Albecq, Portinfer and East L'Ancresse.
There are investigations taking place at these sites.
The department has warned the total cost of the storm damage will increase substantially.
Castle Emplacement was one of the worst hit areas.
Police described conditions on Guernsey on Tuesday night as "horrendous" with "extensive damage" in the Castle Emplacement area.
Meanwhile States Works employees working to shift debris at Perelle have been told they will need to wear breathing equipment so they can remove seaweed that has been left by the recent storms.
A spokesperson for States Works said the algae was decomposing, giving off a toxic gas.
It has been lying in grit tanks near to the coast waiting to be removed.