High tides and flooding cause havoc in Guernsey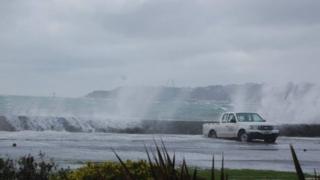 A 10-metre-high tide and strong winds made rush hour a misery for many commuters along Guernsey's east coast.
Some commuters had to queue for over an hour to get into town as many routes were flooded.
Guernsey Police closed the seafront between the Red Lion and the Salerie on Monday morning, and the Quay and Les Banques remain flooded.
The Guernsey fire and rescue service has been pumping out two properties at Richmond Corner.
The west coast was battered over the weekend with L'Eree shingle bank breached by storms.
Environmentalist Jamie Hooper said "The Colin Best nature reserve flooded but the water was pumped out before the next high tide."
Further flood warnings are in place for Tuesday.