Guernsey's west and east coasts hit by flooding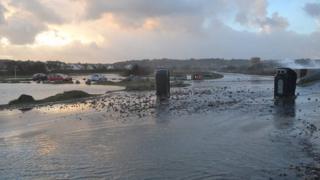 High tides and gale-force winds have caused flooding along Guernsey's west coast.
Police have closed parts of the coastal roads at Cobo, Perelle and Rocquaine and drivers have been warned to avoid the areas.
Bus services along the west coast have been cancelled because of the conditions.
Flooding has also been reported along parts of the east coast, but there are no reports of any major incidents.