Guernsey schools to share timetable and teachers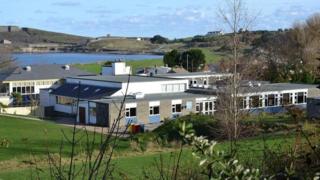 Guernsey secondary schools are to work more closely together in future under plans for reform by the Education Department.
The States plans to form a federation of schools, which would see schools adopt the same timetable and share teaching staff.
Education Minister Robert Sillars said the reforms would give students access to a wider curriculum.
He said it was an essential part of plans to improve standards.
The four secondary schools in Guernsey - the Grammar School and Sixth Form Centre, La Mare de Carteret High School, Les Beaucamps High School and St Sampson's High School will be joined by St Anne's in Alderney in the new federation.
'Number of challenges'
From September, the schools will use the same timetable, which will see students receive 25-hours of teaching each week.
The minister said moving to a federation would help to improve standards and address "a number of challenges".
"The current structure of secondary education means that schools sometimes have difficulty in delivering minority subjects," Deputy Sillars said.
"Not all students can access the same breadth of opportunities and we are not sharing best practice and our best teachers across all our schools.
"In many cases we are also not operating efficiently and opportunities for further staff development are limited."