Noted naval family's letter to be sold at auction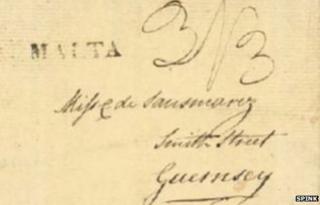 A 200-year-old naval letter, from Malta to Guernsey, is expected to fetch £3,000 at a London auction.
Addressed to Miss C. De Sausmarez, the rare handstamped letter was from her brother Captain Durell de Sausmarez - stationed on HMS Tagus in Malta.
A spokesman for auctioneer Spink said: "This handstamp is rare, it was in use from 23 March until 14 July 1817 and has only been seen on naval letters."
The letter will go under the hammer on Wednesday.
The Sausmarez family have a long naval history; Captain Durell's cousin was Admiral James Sausmarz - second-in-command to Lord Nelson at the Battle of the Nile in 1798.