'Reduce fares to boost Guernsey tourism'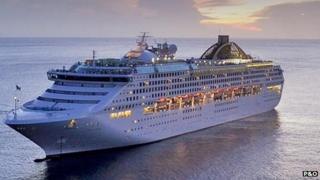 People in Guernsey have said reducing the price of fares to and from the island would be the best way to improve tourism.
They were responding to a BBC Radio Guernsey debate in which head of tourism Mike Hopkins set out his plans to attract more tourists.
Many users joining in the debate on Facebook said the cost of fares was prohibitive.
Ferry firms and the aviation industry said they were doing all they could.
A return flight on State-owned Aurigny airlines from Guernsey to Gatwick currently costs £208 (252EUR).
For the same weekend break from Blue Islands airline, a return flight costs £283 (343EUR).
'Expensive destination'
A weekend trip to the island on Condor ferries will cost one foot passenger £52 (63EUR), while travelling with a car costs £154 (187EUR).
UK based Nina Wood said: "It costs my husband and I £350 on Condor every year. We could go to Antigua all inclusive for what it costs to come to Guernsey."
Jen Bradshaw added: "Cheap flights! How many times does this have to be said?"
But James Fulford, chief executive of Condor Ferries, said: "Condor makes virtually no money out of the high-speed ferry routes, so there is nowhere to go on pricing."
Malcolm Coupar, Aurigny's commercial director said: "The aviation industry has taken on massive increases in costs. Unfortunately the cost of aviation is not getting any cheaper."
A spokesperson for Blue Islands said: "Guernsey is an expensive destination, therefore reducing the cost for visitors to Guernsey needs to be a joined up approach with all tourism stakeholders."
Flybe are yet to comment.
Mr Hopkins said: "I know all the carriers are working hard to make sure their rates are competitive as possible."