Sark hotels close 'due to lack of tourists'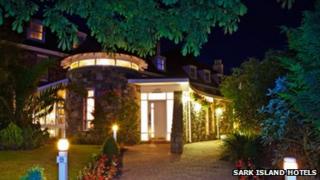 "Anti-business policies" of Sark's government have forced two hotels to close, bosses have said.
Sark Island Hotels' group manager, Dawn Manger, said that Sark's "refusal to open up the island to visitors from France" has had a "knock-on effect to the economy."
The Aval de Creux and Petit Champ will not open next summer, resulting in 30 job redundancies, the firm said.
But, Sark visitor office said other businesses "have had a good year."
The hotel group said: "It wasn't cost-effective" to keep all four of its hotels open.
La Monerie and Dixcart Bay will remain open, and the group will honour bookings for the July folk festival.
The group has said that without a border control, Sark is forcing visitors to go through Guernsey or Jersey rather than coming straight from France.
Sark Tourism said: "Passenger numbers from France have remained constant during the last nine years."
Manche Iles Express sailing company have told Sark Tourism that they would be "prepared to offer more sailings if the demand was there."