Seal pup rescued off the coast of Guernsey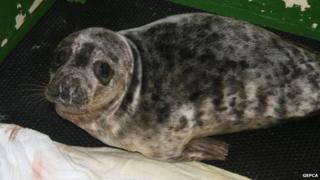 A "very thin" grey seal pup has been rescued off Guernsey's south coast.
The three-week-old pup, which has been named Trinity, was found stranded on the beach at L'Eree on Wednesday.
GSPCA Animal Collection Officer Geoff George said the pup weighed 18.8kg (41lbs), less than half the weight it should be.
He said the bad weather meant that the seal would have been "unlikely to have lasted long" if it had not been rescued.
He added that it hoped it would be strong enough to go back to the wild in six to eight weeks.
GSPCA manager Steve Byrne added that Trinity was "lucky to have been spotted and reported as the recent weather has been extremely unkind to our wildlife".