Guernsey truants targeted in milk campaign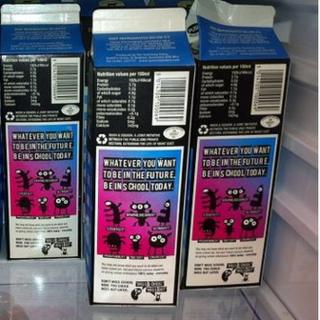 Pupils are being discouraged from missing school in a new advertising campaign on Guernsey milk cartons.
The Education Department linked up with the dairy to emblazon its blue carton's with the message: "Whatever you want to be in the future, be in school today."
Development officer Julie Spratt said: "Past attendance has been lower than national, the department is trying to ensure this doesn't happen again."
The campaign was developed by a group of students at a workshop.
'Stricter punishment'
However, some residents were not convinced that the message would make a difference.
Rosemary Farish wrote on the BBC Radio Guernsey's Facebook page: "That's assuming young people drink milk and read the carton!"
Peter Torode said: "I don't think it will be effective, what they need is stricter punishment."
Lindsay Bee offered further advice: "You need to start with why are they skipping school. It can be hard when your young to ask for help, we need to try and seek out these people and help them."
The Education Department has been placing posters on display in schools and at other public places around the island.
Primary Schools in Guernsey currently achieve 95% attendance with secondary schools at 92.4% during the past full academic year.
National figures for 2012/13 attendance are not yet available but Guernsey's figures are below those nationally for 2011/12 (primary 95.6% and secondary 94.1%).
Research shows nationally, 73% of learners whose attendance is above 95% achieve five or more GCSEs at grades A*-C.