Guernsey stamps celebrate Year of the Horse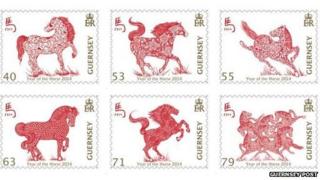 A set of stamps celebrating the Chinese Year of the Horse are to be released by Guernsey Post.
The stamps, which will be issued ahead of the start of the year on 31 January, feature six horse illustrations by Chinese artist Chrissy Lau.
Ms Lau, who grew up in England said she had wanted to "create something that would instantly draw attention".
The stamps, which show horses in a variety of poses, will be issued by Guernsey Post on Wednesday.
The illustrations include one horse with its head back and its leg forward, representing a reminiscence of the old year and an expectation of the new, while another includes eight horses, in reference to Chinese culture's association of the number with wealth and success.
A Guernsey Post spokesman said the "strong designs" reflected the Chinese zodiac prediction that "people born in this year will exude strength and stability".