Condor Ferries improves guard rails after incident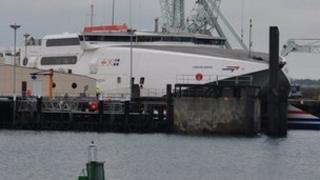 Channel Island shipping company Condor Ferries has announced improvements to its guard rails after a deck hand fell while trying to catch a mooring rope.
The incident happened while one of the company's ferries was docking in St Malo on 28 November.
French seafarers' unions have been critical of the company's safety and employment procedures, questioning pay rates, staff numbers and rest hours.
Condor CEO James Fulford said the company was a caring employer.
"Condor Ferries takes its commitment to health and safety extremely seriously and provides all members of our board staff with sufficient rest periods," he said.
The CGT union (Confédération Générale du Travail) and maritime environment association Mor Glaz called for an investigation after the deck hand was injured.
They claimed the company's staffing levels were "substandard" - a claim denied by the company.
Mr Fulford said all staff on its high-speed ferries were employed through the company's Guernsey office and "their terms and conditions meet or exceed all legislation required by Guernsey law".
"Condor Ferries has been working with the relevant authorities to investigate the matter," he said.
He said the injured member of staff was "expected back to work shortly".