Alderney airfield needs upgrade to stop 'spiral of decline'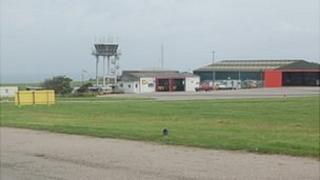 Alderney's airfield "urgently" needs to be updated to avoid a "spiral of decline" in the island, according to a States petition.
Both Alderney representatives in the States of Guernsey have called for the main runway to be improved and two grass runways to have hard surfaces.
Paul Arditti and Louis Jean said this would allow flights to operate in crosswinds, rain or after dark.
The call for a £100,000 report into the airfield will be debated in January.
The pair, supported by five Guernsey politicians, have asked that if the report is approved, it is presented to the States before November.
They have argued it is an emergency project, due to the island's falling population and tax revenues, and suggested the estimated £8m of work should be funded from the States' Contingency Reserve.
However, the Policy Council has questioned if such an investment would reverse the tax revenue fall and said there was a lack of evidence behind the £8m figure.
A spokesman said it was also firmly against it being funded from the reserve, but suggested the project could be funded from capital project funds.
The council has recommended the petition be rejected in favour of further research being carried out by the Public Services Department, which is responsible for the airports in Guernsey and Alderney.