Guernsey chief economist Andy Sloan resigns after punch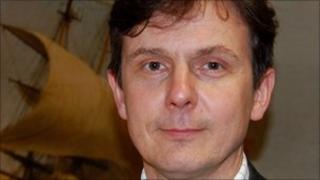 Guernsey's chief economist has resigned - a month after punching a Jersey police officer in the face at a British Irish Council summit meeting.
Andy Sloan offered his resignation on Tuesday and it has since been accepted, a Policy Council spokesman said.
Mr Sloan was sentenced to 70 hours of community service and was ordered to pay £500 compensation to the officer, after pleading guilty on 18 November.
He said he hoped to be remembered for his work and not just his "mistake".
Mr Sloan had been at the bar of the L'Horizon Hotel in Jersey ahead of representing Guernsey at the summit meeting, along with the chief minister and minister for commerce and employment.
Mr Sloan became abusive about paying the bill and was approached by the police officer, who told him he was behaving inappropriately.
He then turned and punched him in the jaw.
The officer reported he was unable to close his jaw for hours afterwards.
"I wish to formally apologise to the States and to the public of Guernsey for any embarrassment caused by my actions," Mr Sloan said in a statement, released earlier.
The Policy Council confirmed Mr Sloan would "only receive those entitlements to which he is contractually eligible under his contract of employment".