Saumarez Park playground gets go-ahead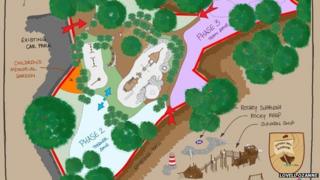 The construction of a playground in Guernsey's Saumarez Park has been given the go-ahead.
The project, which includes a 20ft (6m) high and 95ft (29m) long pirate ship, is likely to begin early in 2014.
Building the ship using Robinia wood, and a natural rock landscape and climbing area will be phase one of the project.
Development has been delayed for two years while the Friends of Saumarez Park Playground charity raised funds.
It has raised £176,000 and aims to gather a further £325,000 to pay for a toddlers' section, a new model boating lake and possibly a mini skate/scooter park in an area set aside for teenagers.
Zef Eisenberg, chairman of the Friends of Saumarez Park Playground, said he was pleased planning permission had been granted so a "brand new exciting playground" could be built.