Guernsey bus figures 'misleading'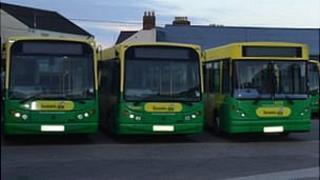 A reported rise in passenger numbers for Guernsey's bus service has been found to be "misleading".
The Environment Department said there was a "discrepancy" in how they had been calculated meaning they could not be directly compared.
The figures from 2010 to 2013 have been recalculated on the same basis and reveal a steady decline.
Environment Minister Roger Domaille said the bus service had improved, but there was no denying the ongoing drop.
He said the incorrect figures had been published due to pressure from the island's media.
Deputy Domaille said the "bus service is better than it was", but the heavy snow in March and the strikes and threatened action by drivers over pay had dented confidence in the service.
He said the introduction of a two-tier fare structure and the "well published problems", including a shortage of drivers, had also put people off using the bus.
Deputy Domaille said his department's transport strategy, which is due to be discussed by the States in April, sought to address some of the issues and encourage people to use the bus more.