Kashmir murder trial told of Sarah Groves' final hours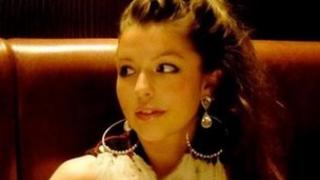 The trial of a man accused of murdering Guernsey woman Sarah Groves in India has been told of her last few hours before she was killed.
The 24-year-old was found dead on a houseboat on Dal Lake in Srinagar, Kashmir, in April.
The mother of Ms Groves' boyfriend, whose family lived on the houseboat, said they all visited a local shrine on the day of the murder.
The trial of Dutch national Richard De Wit, 43, has been running since July.
The court heard the family and Ms Groves returned from the 200-mile round trip late in the evening and then stayed up talking before going to bed at about midnight.
'Decisive day'
Hafiza Shoda said she woke up at three in the morning due to unusual movements on the houseboat and sought help from other family members before investigating.
She found Ms Groves lying in a pool of blood.
The defence lawyer suggested some of her testimony contradicted statements from the others on the houseboat.
Mr de Wit, who while in prison has converted to Islam and has asked to be called Abdullah, claims he has been framed.
BBC reporter Riyaz Masroor said the final witness is due to be presented on Tuesday and it would be a "decisive day" as the case could collapse and be dismissed.
He said a key point was the lack of a murder weapon, as broken scissors presented to the court earlier this year were dismissed.