Petrol station to be built on former Guernsey landfill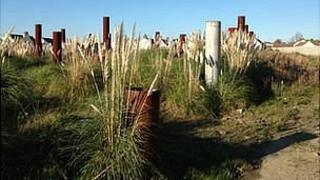 A petrol station, shop and office can be built on the site of a former unofficial waste dump after plans were approved.
The site at the Halfway has been disused for nearly 20 years, but was previously a quarry in which rubbish was dumped.
Comprop, which bought the land in 2007, had its previous application to build a petrol station rejected in 2010.
The latest plans were passed with a number of conditions.
These include ensuring sufficient parking and removing pollutants from the soil.
'Environmental issues'
The plans split opinion among residents, with some welcoming the removal of "ugly pilings", while others contested the need for another petrol station in the area.
Concerns were also raised by Guernsey Water about the lack of records around what chemicals had been dumped at the site.
Steve Marie, Comprop's managing director, said: "Due to its various previous uses as a quarry, unregistered landfill site and breakers yard, we have inherited a number of environmental issues with this site."
He said the problems had been identified and protection measures would be carried out throughout the work.
The Environment Department panel, which unanimously passed the work, said the site was unsuitable for residential purposes because of the pollution issues.