Kevin du Feu guilty of owning 1.1m indecent images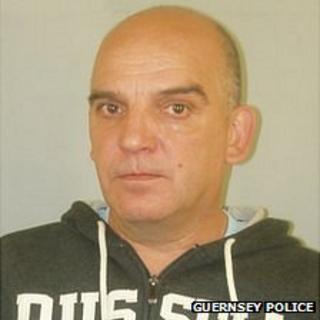 A man has been found guilty of having more than 1.1 million indecent images and videos of young girls.
Guernsey's Royal Court found Kevin Roy du Feu, 54, guilty of 16 charges of making, possessing and distributing indecent material.
Du Feu was arrested in 2009 after police attending a domestic incident were alerted by his then wife.
Judge Russell Finch said he would be sentenced on 15 January and was "likely to face a substantial prison term".
The court heard police seized six computer hard drives and discovered hidden and encrypted files on which the images and videos were stored.
Shared data
Crown Advocate Gary Perry told the court the images had been downloaded and shared using bit torrent software, which was running on a business computer at their home.
Bit torrent software allows the sharing of large amounts of data between multiple users across the internet and is used to download computer programmes, music, and films.
The computers were seized after accusations made by his then wife while she was being interviewed by police officers attending a domestic incident at their house in the Castel on 24 September 2009.
She showed officers pictures she had taken on her mobile phone of a computer monitor showing some of the images she had found downloading while using du Feu's business computer in July, the court heard.
Defence Advocate Clare Tee questioned her on why she had not reported this earlier and she told the court the couple had been going through relationship difficulties and she had been "frightened".
The defence argued the 54-year-old was set up by his ex-wife, who had unsupervised access to the computers and hard drives held at their former home.
But advocate Perry told the court the former Mrs du Feu had lacked the necessary IT skills to download the material.
He also said she had been out of the island when some of the material had been downloaded, which needed to be started by a user at the time.
'Hidden and encrypted'
Det Con Stephen Cummins, a forensic computer specialist with Guernsey Police, showed the court the defendant's computer internet browsing history showing the access of a large number of indecent images.
He said they discovered a "complex" folder structure on the computer hard drive with many folders "hidden and encrypted".
He told the court there was "no logical reason to hide content unless you wanted to hide it".
The court was told du Feu was a member of online photography forums and also had 890,000 images of a non-offensive nature on his hard drives.
Du Feu had been due to give evidence, but did not take the stand and no reason for this change was given in court.
Jurats took 90 minutes to reach the unanimous verdict.