Channel Islands Christmas Lottery jackpot reaches record high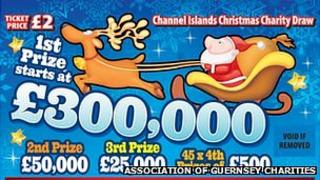 The jackpot for the Channel Islands Christmas Lottery has reached a record high.
The prize, based on ticket sales, has reached £770,000 and could rise further ahead of the draw on 19 December.
The previous record top prize was £751,500, which was won by a Jersey resident in 2011.
The increase in the jackpot follows a change in format for the lottery, with tickets doubling in price to £2 but each having two chances to win.
Profits are shared between the charity associations in Guernsey and Jersey with £190,000 and £400,000 given respectively from the 2012 draw.
The proceeds are split based on the proportion of tickets sales, with the division usually about 60% for Jersey and 40% for Guernsey.
Two unsuccessful attempts have been made to run summer lotteries.
The annual lottery has been running since 1975 and money has been donated to charity since 1986.