Guernsey health department 'losing leaky roof battle'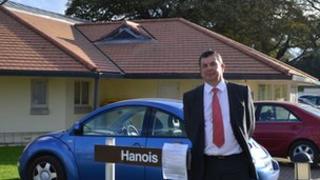 Guernsey's Health and Social Services Department has applied for permission to replace leaking roofs on three buildings which were completed in 2004.
The continuing care units at La Corbinerie, known as the Lighthouse Wards, accommodate mainly elderly patients with mental health problems.
Richard Evans, the Director of Corporate Services, said the work would be likely to take two years.
"We're getting to the point where we're facing a losing battle," he said.
Mr Evans said eight of the 60 units of accommodation had already become unusable as a result of the leaks.
The problem has been particularly acute at Fougere Ward but the roofs of Hanois and Casquets Wards also require replacement.
'Culpability uncertain'
Mr Evans said the interlocking terracotta tiles had been unable to withstand "the particularly bad weather we've had over the last few years".
He would not reveal the estimated cost of replacing the roofs, expressing of concern he might discourage a competitive tendering process for the work.
He was also reluctant to discuss who would pick up the bill.
"We're working our way through the contractual process to see who may be culpable, if anybody," he said.
The department spends £6m annually on building maintenance and utility bills.