New Guernsey charity to help with UK hospital trips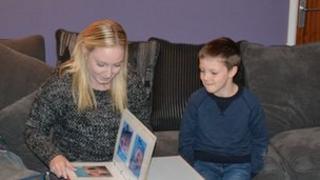 A Guernsey boy with a life-limiting heart condition is hoping to set up a charity to help families who have to travel to the UK for treatment.
Seven-year-old Jake Guy has had open heart surgery three times, after being born with a significant cardiac defect.
At his suggestion, his mother Holly has begun raising funds for "survival packs" containing essentials for families who have to leave in a hurry.
If enough is raised, Jake's Heartfelt Funds will also help with travel costs.
Jake spent six weeks in hospital earlier this year after developing septicaemia and endocarditis - inflammations of the organs caused by severe infection.
These conditions were made more dangerous because his heartbeat is entirely dependent on a pacemaker.
Strange environment
Holly said: "A lot of the time, when you're flown off island, you don't have what you need."
Jo Le Lacheur, who has helped Jake's mum with the fundraising, said parents of critically ill children often got on a flight "with just the possessions in their pockets".
"They then find themselves alone without any belongings in a strange environment and not knowing even where to get a toothbrush from," she said.
Ms Le Lacheur said the most important item to include would be a UK phone with credit on it.
"This is vital, as so many parents end up with an extortionate phone bill as they are using a Guernsey phone and this costs to receive and make calls," she said.
Ms Guy said she required £5,000 before being able to register the charity and a walk has been organised for 22 December, in which participants will be invited to wear onesies.
After being praised for his bravery in dealing with such a tough year, Jake was given the honour of switching on the light tree on St Peter Port's Weighbridge roundabout.
The Rotary Club of Guernsey claim its Tree of Joy is "the tallest light tree in Europe", at 110ft (34m).
The club uses the tree as the basis for an annual campaign to ensure underprivileged children in Guernsey are able to receive Christmas presents.