Beau Sejour flumes future remains 'in limbo'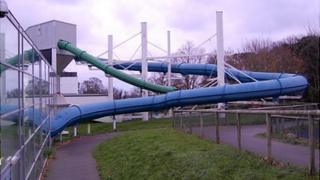 Plans to dismantle the flumes at Guernsey's Beau Sejour leisure centre remain on hold because of a lack of funding.
A campaign to keep them open and pay for repairs started in 2010 but failed to generate the £90,000 needed.
Culture and Leisure Minister Mike O'Hara admitted his department was "in limbo" over the issue.
He said there was not enough money available to either reopen the flumes or decommission them.
Deputy O'Hara said running the flumes was not "economically viable" so the preferred option was to take them down, which would cost about £30,000.
He said they would be "left standing for a long, long time - until we can increase the revenue from Beau Sejour to try to pay for them".
"They'll stay there as an edifice to the previous generation," he said.