Amount of Guernsey household waste being dumped falls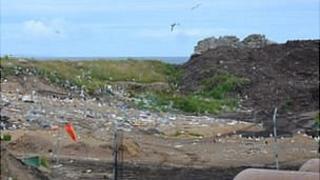 The amount of household waste being dumped in Guernsey has fallen over the past year, according to official figures.
The amount of rubbish being dumped has fallen slowly since 2009 with 13,738 tonnes dumped in the past three months.
Meanwhile the recycling rate has remained steady with it being about 46% of all household rubbish since 2011.
Public Services Minister Paul Luxon said this reduction in waste was "very significant".
He said the department was committed to continuing this trend, as well as increasing the recycling rate.
In 1997, the States set recycling targets of 50% by the end of this year, 60% by the end of 2018 and 70% by the end of 2025 for both domestic and commercial waste.
A spokesman for the department said the commercial figures would not be available until early in 2014.
He said its campaign to encourage more recycling - which suggests the island would reach 50% if every household recycled an extra newspaper or glass bottle extra bottle each week - and the introduction of kerbside recycling in March should see the household recycling figure rise.