Airlines to work together on Channel Islands route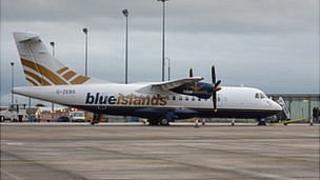 Channel Islands airlines Aurigny and Blue Islands say they hope to work together on the inter-island route in an attempt to curb losses.
The airlines plan to use only Blue Island's planes but both will take bookings for the seats.
They need approval from the Channel Islands regulatory authorities to go ahead with the agreement.
The plan is to operate six or seven return flights on weekdays, with four on Saturdays and three on Sundays.
The seats would be sold by both airlines on an equal basis.
Blue Island managing director Rob Veron said: "It is well known that Aurigny provide excellent ground handling and customer service for their passengers and we look forward to introducing their team to our own customers.
"We in turn will provide our dedicated 46-seat ATR aircraft on the inter-island route, with the reassurance of a spare back-up ATR aircraft for times of inevitable technical and servicing requirements."
The Channel Islands Competition and Regulatory Authorities chief executive Andrew Riseley said the impact on consumers would be a major part of deciding whether to give approval.
'Loss-making services'
He said: "The application does not address the issue of fares, and we would not expect this, but it does contain a commitment by both airlines to market and sell seats independent of one another.
"The airlines suggest that the proposed arrangement would provide sufficient capacity on the route and remove existing over-capacity.
"Both Blue Islands and Aurigny have suggested that the separate, loss-making services are unsustainable and that merging the services on this route would maintain a sufficient level of competition between the airlines."
Guernsey government-owned Aurigny has been operating the Britten-Norman Trislander since 1971.
There are currently seven in the fleet, each carrying up to 16 passengers, due to be phased out in 2014.
Mark Darby, CEO of Aurigny, said: "This alleviates the requirement by Aurigny to obtain further significant financial support from the States of Guernsey to invest heavily in new aircraft to service this route as our Trislanders reach the end of their economic life cycle."