Guernsey kerbside recycling to start in March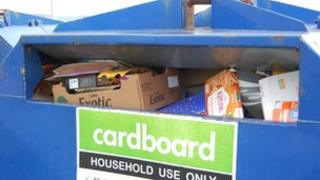 Kerbside recycling collections will be rolled out across Guernsey in March, the Public Services Department has said.
A spokesman said the two-year voluntary scheme would be free to households and provided by the current bin men.
He said special bags would be delivered to households in which mixed recycling items, except for glass, could be put and left out like rubbish is now.
The move is part of the waste strategy to recycle more and export the rest.
In February 2012 the States agreed to introduce kerbside recycling as part of the strategy, which aims to achieve a recycling target of 70% by 2025.
The spokesman said although participation would be voluntary, the department expected most islanders to take part.
He said the £2.4m cost of the collection and processing charges over the two-year period would be funded from the revenue saved from waste charges at Mont Cuet.
Remove the barriers
Plans for a £1.3m trial in just three of the island's 10 parishes seem to have been shelved.
Currently items such as plastic bottles, cartons, polystyrene and cardboard can be recycled through the island's bring banks - which has seen the island achieve a household recycling rate of 46%.
Public Services Minister Paul Luxon said: "We have to improve the service provided to remove some of the barriers that prevent some islanders from recycling more, and help those who are not currently recycling anything to start.
"Kerbside collection is important, as it will make recycling easier and more convenient.
"Every additional tonne of material we collect at the kerbside or through the bring banks, is one less tonne going to landfill or requiring another costly form of treatment."
Broken glass
Pick-ups will be on the same evening as a normal bin night with different materials on alternating weeks; paper and card one week and tins cans, plastic bottles and containers, foil and drink cartons the next.
The spokesman said glass would not be included in the scheme as broken glass can make some other items unrecyclable.
He said it could still be recycled at bring bank facilities and trials would be carried out during the scheme to see if it could be added.
The department hopes to launch a full kerbside service, including the separate collection of food waste, in 2016.
The collected materials will be sorted by private company Mayside Recycling, which is setting up a materials recovery facility to sort and process the various recyclables.