Guernsey economist Andrew Sloan admits punching policeman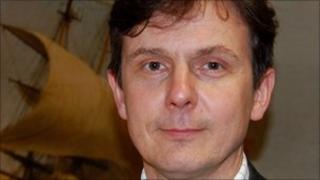 Guernsey's chief economist has pleaded guilty to punching a police officer in the face at the British Irish Council summit in Jersey.
Dr Andrew Sloan, 44, was sentenced to 70 hours of community service by the Magistrates' Court.
The court heard he assaulted the policeman and was abusive towards him on Thursday at the L'Horizon Hotel bar.
Sloan was also ordered to pay £500 in compensation to the policeman and was fined £500 for his drunken behaviour.
Top officials from across the British Isles had been meeting to discuss ways of tackling the economy.
After asking for another drink and becoming abusive about paying the bill, Sloan was approached by a policeman who told him he was being out of order.
The court heard how, out of the blue, the economist then turned and punched the PC in the jaw.
'Extreme stress'
The prosecution quoted the policeman saying it was a painful attack that meant he could not chew or close his jaw for hours after.
Sloan was handcuffed and began swearing loudly, saying he worked for Guernsey's government while yelling abuse, the court heard.
A States of Guernsey Policy Council spokesman said it would not discuss "issues relating to individual employees".
However, he added: "The States of Guernsey takes its reputation very seriously and that includes the conduct of its staff when on States business."
Sloan's lawyer said his client was ashamed and mortified by his behaviour. He said he was under extreme stress and was overworked.
He is pushing for community service, citing Sloan's previous immaculate record and saying he had already spent three days in jail.
Sloan claimed "someone had kept topping up his glass" at the conference.
Guernsey was represented at the summit by Chief Minister Peter Harwood and Commerce and Employment Minister Kevin Stewart, while States Chief Executive Mike Brown and Sloan were among the delegation.
They met representatives from the UK and Irish governments, as well as officials from Scotland and Wales, the Northern Ireland Executive and the governments of the Isle of Man and Jersey.
The summit centred around discussions on economics, youth employment and creative industries.