Guernsey firework sales could be banned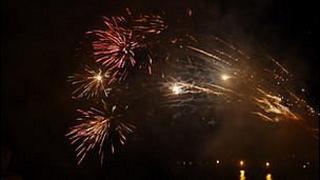 Firework sales could be banned in Guernsey if moves to reduce the number of private parties fail.
Currently fireworks can only be sold in specially licensed shops for a limited period before bonfire night on 5 November each year.
However, there are no controls about when they can be set off.
Commerce and Employment Minister Kevin Stewart said if a voluntary limit to when private parties were held fails tougher rules would have to follow.
He said: "If you can't stick to a voluntary code, if you can't keep your fireworks between these two dates then what we will have to look at is maybe the solution they have in Australia.
"[That] is only allow organised displays, don't allow the sale of fireworks to private individuals - that's probably the easiest thing to do.
"I'd hate to go down that route because I don't like government that interferes in everyone's lives."
His department launched a review of the regulations earlier this month after complaints from animal charities and some islanders that the successive nights of explosions and lights around bonfire night went on too long and caused distress to elderly islanders and pets.
Details of the dates of the voluntary scheme under which private parties can be held are yet to be released.