Aurigny confident of Guernsey States support over new planes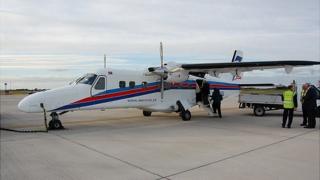 Guernsey States-owned airline Aurigny is "confident" of government support in replacing its current fleet of inter-island planes.
Mark Darby, Aurigny's chief executive, said the seven 16-seat Trislanders were no longer fit for purpose.
He said he was confident the island's treasury would guarantee any loan needed to replace the fleet.
A Treasury and Resources Department spokesman said any such guarantee was a decision for the States.
The airline is currently carrying out a two-week trial of the 19-seat Dornier 228 on its inter-island services to see whether the aircraft is a suitable alternative.
Mr Darby said the Trislanders were "very expensive to run" and it was becoming more difficult to get hold of spare parts.
He said once an alternative plane had been successfully tested they would ask the Treasury and Resources Department to act as guarantor so they can approach finance institutions to apply for a loan for the planes.
In a statement, the department said the airline would need to put a business case forward before it could decide whether or not it would support the move.
It said this would need to look at issues such as leasing or purchasing the replacement aircraft and if they supported buying of new planes then a loan guarantee could only be agreed by the States.