Alderney wild boar that swam from France shot over disease fear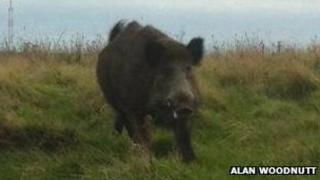 A wild boar in Alderney believed to have swum to the island from France has been shot.
It is believed to have been on the loose since the start of September, but was usually only seen at dusk, which led to it being dubbed "ghost pig".
The animal is thought to have been shot and disposed of by someone concerned that the animal might be carrying disease.
Police in Alderney said they were not investigating the incident.
Wild boar are commonly found in Normandy, the coast of which lies seven miles (11km) to the east of Alderney, and can swim long distances in open water.