Young knitters 'snubbing Guernseys'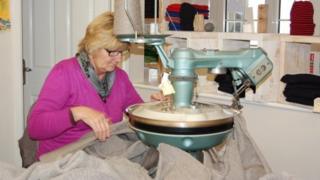 The survival of Guernsey jumpers could be under threat as fewer people are developing the skills to make them.
The island's traditional fisherman sweater has been made in the Bailiwick since the 16th century, and its popularity is growing abroad.
A local business which makes the garments has just shipped 5,000 to Japan.
Neil Sexton from Le Tricoteur said the younger generation was reluctant to work in the industry.
'Hand knitters'
He said: "At the moment we can't make enough of them, we have more orders than we can cope with at the moment.
"Our biggest market at the moment is Japan. We have been sending them out there for 25 years but four or five years ago it picked up and has been getting bigger each year.
"We would love to expand but we need more hand knitters before we can expand. The older generation used to do a lot of it but the younger generation don't.
"You could make a machine knitted garment but we don't want to do that, we want to make it the traditional way."
Designed to be used by fishermen, it has seen celebrity endorsement from the likes of Ben Fogle.
Guernseys are traditionally navy blue and made from a specially coated worsted wool which makes them not only warm, but waterproof.
The worsted wool is twisted to make it stronger than regular wool, which helps to give the jumper its sturdy character.
All traditional Guernseys are made to the same pattern with a square neck, making them reversible, and patterning at the shoulders which in the past were often specific to a parish or family.
One reason for this was to help identify the bodies of fisherman lost at sea when they were washed ashore.
Mr Sexton said if a new generation of knitters could not be found then work would have to go overseas or stop completely.
He said: "If we don't find any more hand knitters than we have at the moment the business will not grow and eventually we will all get too old and will have to stop."