Guernsey pledges £50,000 to Philippines typhoon fund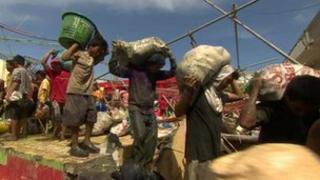 The Guernsey Overseas Aid Commission has pledged £50,000 to the survivors of Typhoon Haiyan in the Philippines.
Deputy Mike O'Hara, the commission's chairman, said he had been "deeply moved" by reports of the disaster.
The money will come from the island's Disaster Emergency Relief Fund, which receives £200,000 every year from Guernsey's government.
The commission has promised the money to the UK Disasters Emergency Committee (DEC), which is working with charities.
The commission is currently awaiting confirmation from the DEC about whether or not a national appeal will be launched in response to the disaster.
Deputy O'Hara said he expected the DEC would be making a decision "within the next 24 hours".
The typhoon hit the Philippine archipelago on Friday, bringing sustained winds of 235kmh (147mph) with gusts of 275 kmh (170mph).
Waves as high as 15m (45ft), bringing up to 400mm (15.75 inches) of rain in places.
It has been estimated that 10,000 people have lost their lives and that up to 630,000 people have been displaced.