Guernsey marks Remembrance Day two-minute silence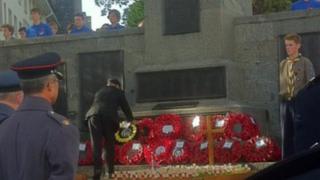 People across Guernsey have joined in Remembrance Day's two-minute silence to remember fallen service personnel.
Members of the Princess of Wales Regiment, known as the Tigers, joined the island's commemorations.
It is the only infantry regiment that recruits from the Channel Islands.
The colonel of the regiment, Brigadier Richard Dennis, and drummers Corporal Steven Dobinson and Corporal Ashley Golding attended the ceremony at St Peter Port's Smith Street War Memorial.
Also present were island lieutenant governor, Air Marshal Peter Walker; the island's Bailiff, Richard Collas; and senior States representative Deputy Mary Lowe.