Guernsey Sea Cadets unit 'saved for now'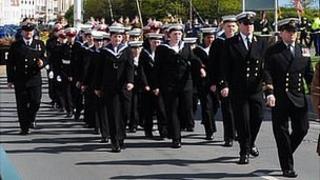 The Guernsey Sea Cadets unit, which is threatened with being disbanded, has been offered a temporary home.
TS Sarnia had to leave its base at the former Boys' Grammar School, in Brock Road, where it had been based for 26 years, in 2011.
Since then it has operated from a base in Admiral Park, which they have to leave by the end of the year.
The unit has been offered rooms at the island's Scout HQ while the search for a permanent home continues.
Commanding Officer Lt Paul Mooney said unless a long-term home could be found the unit would still have to disband.
Children have left
He said the unit needed several rooms so groups could be taught separately.
The unit was offered the use of a room at Castle Cornet by the Culture and Leisure Department.
Lt Mooney said while it was an ideal position for its water-based activities it did not meet the group's other needs.
He said: "Some children have left as the service we're offering is probably not as good as we usually do."
The unit was originally formed in 1983.