Former Jersey minister Stuart Syvret guilty of contempt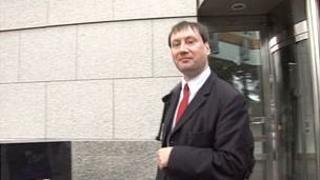 Stuart Syvret, the former Jersey health minister, has been sentenced to three months in prison for contempt of court.
The ex-politician did not show up at Jersey's Royal Court earlier for the hearing and the court was told he believed it had "zero legitimacy".
He has refused to remove online allegations about four people which breached Jersey's data protection laws.
Judge Sir Charles Gray said Syvret had shown "serious and repeated contempt" and ordered his arrest.
He said the offences merited a custodial sentence.
Syvret, who has also been ordered to pay costs, was originally arrested and charged with breaching data protection laws in 2009 when he published personal information on his blog.
Lost seat
However, he failed to appear at the Magistrates Court and fled to England.
This led to a contempt of court charge, for which he was found guilty.
In 2010, he lost his seat as a senator in the States of Jersey, having been absent from Jersey for six months.
His Royal Court appeal against the conviction failed in August 2011 and he was ordered to carry out 80 hours of community service.
He refused to do so and was subsequently sentenced to eight weeks in prison.