Base for Guernsey WW2 airmen memorial is laid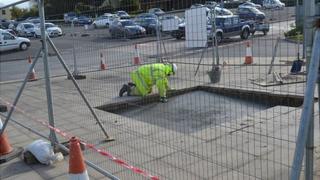 Work has begun on a memorial for World War Two Allied airmen, which will not be completed until 2015.
A design for the memorial, to remember those killed in the Bailiwick of Guernsey, is yet to be agreed.
Its foundation has been laid outside Guernsey Airport as fundraising for the £50,000 project is already underway.
More than 110 airmen were shot down either in the Bailiwick or further afield after being hit by German flak fired from the islands.
The group behind the project hopes the memorial, which could be up to 20ft (6m) tall, will be completed in 2015 to mark the 70th anniversary of the end of World War Two and the liberation of the islands from German occupation.
Historian and researcher John Goodwin said: "It should have been done a long time ago. But it's an appropriate time for it."
The archivist of the Guernsey branch of the Channel Islands Occupation Society has been researching the subject for more than 30 years and has identified 111 airmen who died in the vicinity of the islands, but believes there could be more.
Mr Goodwin said 80 of these were Americans as a number of bombers, each crewed by 10 men, went down near the islands, including two that collided outside L'Ancresse Bay.
He said a lot of the crashes were not seen by islanders as they were offshore or happened during the hours of the curfew imposed by the German military authorities.